Blackbeard's Castle & Walking Tour
Review Detail
5.0
1
0.5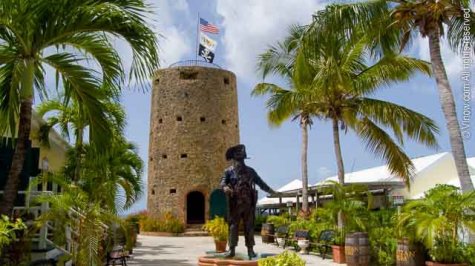 Pirates, Historic Homes, Punch & Pools!
Got tickets and entered through the gate at Blackbeards. One of the guides gave a brief introduction and supplied a self guided tour map. The old watch tower (not a pirate castle... that's all legend) provided a great view of Charlotte Amalie. Super view! Right in front of the tower is the main pool, once the kids saw it they were completely not interested in historic homes or pirate statues. There are several smaller pools around the property too. Villa Notman and the Britannia House were beautifully maintained. The interpreter at Britannia House was very good. Along the route you see a couple other historic homes not part of the tour but that are nice to view from the outside just the same. The Haagenhouse at the top of 99 steps is the next stop on the tour and it was also very nice, great furnishings. Below it there is an exhibit about rum making with complimentary punch (with or without rum)! Then there was a lovely walk through old passages with pretty gardens down to Hotel 1829, not much to see there like at the other 3 historic properties. Exited and went up the 99 steps back to Blackbeards for a swim. There are pirate statues around the whole property that are cool, they are named and most have a little description. Overall a Great Day!!
Comments
1 results - showing 1 - 1
Promoted as Blackbeards "castle". Very misleading as is the "rum factory". We were disappointed and felt we paid too much for what we got.
1 results - showing 1 - 1